The secret world of domination strap on phone sex contains all of the pain and pleasure you could ever seek. This is the kinkiest anal thrashing you will ever experience online, but if you think that you are ready, our girls will be waiting for you.
Call now and bend over you pathetic little bitch and watch as one of our phone sluts stroke their massive black strap-on. Whilst you're in a compromising position, you can imagine how painful it will feel as that oversized, rubber cock is going feel as it goes up your little rosebud. You're about to be stretched wide open, but you are a sissy boy, it's what you deserve and life for. On our anal punishing lines there are no silly stop-words. The only thing you will be able to do is man up and take the drilling that is being offered to you. You will be drilled so deep that you will become helpless and unable to move, we know that you like the sound of that. Your mistress will be in control at all times, you will never be allowed to touch your pathetic cock. On this domination line you will feel immense levels of frustration until your submission is complete and your arse is broken.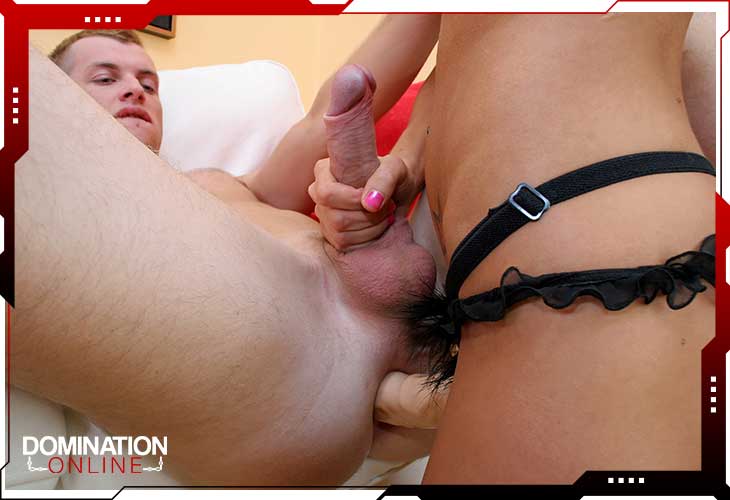 CALL NOW
0908 145 4847
Call cost 45p per minute plus network access charges apply.
Ass Fucking On The Phone
We have many beautiful, leather clad mistresses who specialise in strap-on training for sissy boys. If you're dumb enough to call this service, know that your anal passage will belong to your mistress. So, brace yourself for the best strap on phone sex you have ever had in your life. Of course, our kinky femdoms won't be with you in person, but they'll instruct you on how to pump your sorry little arse hole. When you scream, make sure that it is loud enough for our controlling wenches to hear, nothing gets their tiny slits wetter. If your mistress is kind, she may use some lube as she takes you from behind, but we wouldn't bet on it. How rough our mistresses pound your rear-end depends upon how well you behaved and worshipped your mistress.
Backdoor Action Online
Strap-on phone sex is not just a fantasy, it will become a part of your daily training. Although you may not start off with your mistresses fucking you with biggest strap-on, you will work up to that level in a very short time. It won't be long before you will be able to lower yourself onto a 12-inch dildo. Once you give our sex line a try, your backdoor will be in a permanent state of agony, but that's what you want, right? The moment you decide to call into 24-hour service you will get to know some of the horny vixens that stand behind the services we offer. Don't call us if you are not willing to play ball, our mistresses are only interested in one thing, breaking you into little pieces.
Pages: