Call our sternest dominatrix today for a personal slave training session. This is hardcore domination chat at its highest level. On our UK fuck line you can choose a depraved mistress as you prepare yourself for the most humiliating session imaginable. A slave training session with our girls will leave you shaking in your boots; however, you will be a step closer to knowing your place in society. As you probably already know, you belong at the bottom of the ladder, better yet, you belong under the heel of your mistresses.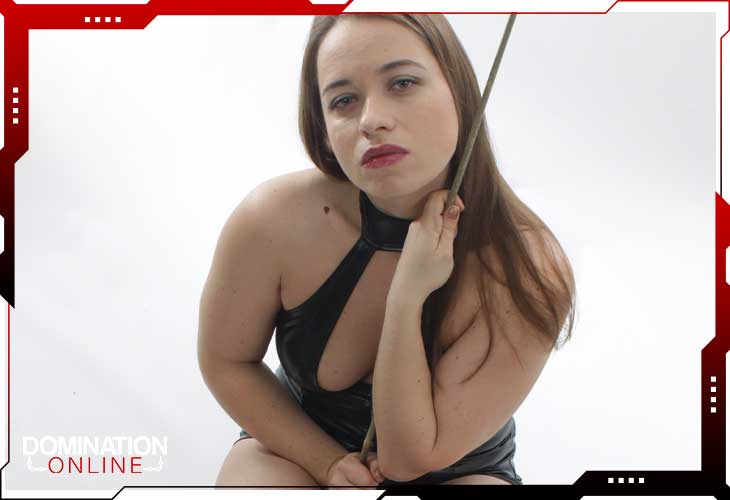 CALL NOW
0908 145 4847
Call cost 45p per minute plus network access charges apply.
Master & Slave Chat Line
As a slave that is ready for training you better be on your knees whilst make your call. You ought to know exactly how you will worship your goddess and be willing to learn how to serve her in any way she sees fit. You can be sure that every single of our vixens is an expert when it comes to slave training. Whatever your fantasy may be, no matter how nervous you feel, your need to be controlled and humiliated is a craving you cannot ignore. On our cheap domination line you will respect and worship your mistresses. You will follow her every command, no matter how humiliating it may be. You should note that you will be subjected to all forms of sexual exploits on our service. Our whores will never listen to your pleas, so don't bother crying like a baby as your mistress loves to know that she reigns supreme over you.
Describe how pathetic your dick is to your mistress, you'll make her laugh when she hears what your genitals are like. She'll quickly let you know that you are not a real man as it becomes clear to her why you need to be trained so badly. You are worthless, and your mistress will find unique ways to enforce her control over you. Braced yourself for all forms of humiliating activities for the amusement of your mistress; however, you ought to remember not to speak until you are granted permission.
Controlling Women Online
Slave training is very popular in the UK as there are many subs craving the attention of an experienced mistress. You will be addicted to serving the whores on our chat line and the need to feed your addiction will grow more powerful every day. You may lead a normal productive life whilst at work, but during your personal time you are a sissy slut that needs to be trained. Your stamina will be tested to the limit on every call there are no boundaries or rules here, your calls are uncensored and the punishment you receive will be severe. Our smutty babes will make you wear a dog collar, you will know your place when you call our kinky chat number.
Our slave training service is one-of-a-kind. We have real dominatrix's online who have come together to create a service that is dedicated to the art of humiliation and sissy slut training. Explore your darkest desires and indulge in the thoughts you dare not share with the world. Our extreme phone sex sessions only cost 45p per minute, so, even a maggot like you can afford to be taught.
Pages: