Welcome to the ultimate spanking phone sex line. A place that was made for the most obedient slaves. If you ready to be humiliated and punished by a real mistress and do whatever she commands, call us today. When you ring into this spanking phone sex line, make sure that you are prepared to be used and abused. Our girls don't want to waste time stripping you down, they want to get right down to the nitty-gritty. You should only call one of our mistresses when you're on all fours and ready to obey.
As you already know, you are pathetic and could never please our mistresses. However, this doesn't mean that you should not try. Nonetheless, when you do fail, our whores will administer your punishment; no matter how much you beg or whimper, there are no safe words, no relief, and no mercy. The only thing waiting for you on our spanking service is intense pain. With every strike of the cane you will howl, and you will know that you are the property of your mistress. Your mistress will command your every thought. Our domination line is unlike anything that has come before it. The experience you share with our whores is as close to the real thing as it gets.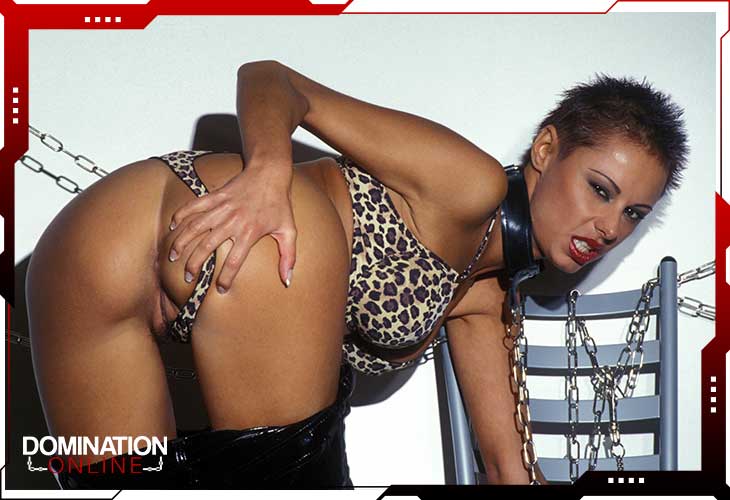 CALL NOW
0908 145 4847
Call cost 45p per minute plus network access charges apply.
Get Spanked By A Dirty Vixen Online
During your first call to our spanking line you will be greeted by several mistresses. It'll be up to you which one you submit yourself to. Please note, this is the only choice you will ever be granted on our domination service. Never for one moment think you will be rewarded for being obedient. To be honest, it's doubtful that you could ever please your mistress you will always be a wimp in her eyes. After all, if you weren't, you wouldn't have to call our domination line.
For every spank or lash you receive, you will be ordered to squeal like a piggy. It will be as though our girls are trying to break you into little pieces. By the end of it all, you will crave to please your mistress as she takes over your mind. You must be grateful for the pain you will feel as it shoots through your body; it's not your place to hold any ill will towards our kinky phone sluts.
Rough Play Phone Sex
Just one touch of your bulging cock without permission will anger your mistress. She will not tolerate disobedience and your punishment will be extreme. She will strike you repeatedly, forcing you to beg for her mercy as you grovel for her forgiveness. It won't be too long before you find yourself crying like a pathetic baby.
This is the cheapest domination sex line in the UK. This is great news for you because it means having sex on the phone with our amazing bints is the best and most cost-effective way for you to get your rocks off. There's no need for you to embark on a worldwide hunt for a controlling whore; why bother when there are plenty of dominating sluts willing to ruin your life right here?
Pages: